El Sobrante Green Team* presents:
Please join us on Saturday, September 18, 2021

"Keep El Sobrante Clean and Beautiful"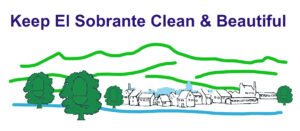 Dear El Sobrante Neighbors,
We love El Sobrante. The growing littering and dumping problem in our community defiles the natural beauty of our area and impacts our quality of life here. It's not only ugly, but it's bad for the environment and wildlife, and can attract vermin and spread disease. We've had enough! We deserve better.
It's up to all of us, our village, to do our part to Keep El Sobrante Clean and Beautiful. So please join us on National Cleanup Day on Saturday, September 18, 2021 to launch an ongoing effort to clean and beautify our town.
Form a cleanup Team:
* Businesses * Property Owners * Residents * Apartment Complexes * Schools * Places of Worship * Neighborhood Associations * Organizations * Anyone and Everyone to step up and participate by forming a team to do the following:
Pick up litter (masks, gloves, fast food containers, plastic, wrappers, cigarette butts, large items, etc.) and clean up your property down to the streets and gutters, in your parking lots, on your block, or a trouble spot in your area.
Other things you can do:
Pull up those weeds, plant some flowers
Refresh the paint on your things that have been an eyesore to your neighbors for a while
Paint a mural (may need permits)
Clean up Grafitti
Collect trash along the creek
Take pride in knowing that our community cares about keeping El Sobrante beautiful. Together we will make a difference!
For more information, to participate, sign up your team, or for sponsorship opportunities, email us at [email protected] or call Holly Trejo at 510-685-6268.
Check back soon for more updates on this event.
* The El Sobrante Green Teams are volunteers sponsored by the El Sobrante Chamber of Commerce.