INDIVIDUAL CLEANUPS | SAFETY CHECKLIST
FROM: NATIONALCLEANUPDAY.ORG/EN/JOIN-US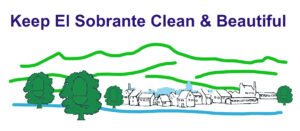 Ensure that it is safe and permissible by local authorities.
Always follow health and safety ordinances before heading outside. If you live in an area where you can be outside, be sure to practice social distancing and robust sanitation practices before, during, and after your cleanup.
Select an appropriate time and route for your cleanup.

Choose a safe location: Select a place where it is less likely you will be around other people. Your cleanup route can be done in your neighborhood or a nearby park.

Select a route: Before heading out, know what route you want to take and calculate how long it will take.

Time: Always do your cleanup in daylight and when weather conditions are suitable.

During the cleanup
Ensure that you wear a mask and some form of gloves for protection. Additionally, BBQ tongs, salad tongs, or other pickup device can help create further separation between you and the litter.
Never touch the litter directly or your face during your cleanup.

Bring hand sanitizer, especially if you are somewhere where you are unable to wash your hands. – Only pick up litter that is safe to handle and can be easily disposed of or recycled.

Ensure that you are following guidelines set out by the CDC and EPA on how to dispose PPE gear. To really go the extra mile, consider using an App to log your piece of litter and support citizen science.
4. After the cleanup
Make sure to wash your hands as soon as possible.
Disinfect all the reusable equipment that was used during your cleanup.

Publicize the success of your cleanup on social media.

Tag us at @NationalCleanUpDay with the hashtag #NationalCleanUpDay #TrashTag #Plogging. We love to feature our volunteers!
GROUP CLEANUPS | SAFETY CHECKLIST
Below, you'll find all of the specific instructions and links to help you get started. If you need any help, don't hesitate to reach out to us. Follow our simple online 8 step guide that covers everything from volunteers to being published in the media.
1. Sign up for your free Otter account
Before you start organizing your event, make sure to set up a free account with Otter Waiver to run all your volunteer waivers through.
2. Organize a planning group:
Invite members from local government, civic organizations, clubs, homeowner associations, churches and media to serve on a cleanup planning committee.
Having a diverse coalition can help the event run smoothly.
Ask your Mayor for a National CleanUp Day Proclamation – it's simple to do and your Mayor will usually make the proclamation annually without need for a vote.
3. Select an appropriate site, date, and time:
Choose a public location: a park, a river, or a similar community site that is ideally accessible by public transportation or bicycle.
Select a date: National CleanUp Day is on the Third Saturday in September, but your cleanup can occur anytime during the month of September
Time: Depending on where you are, choose a time that allows for plenty of daylight and comfortable temperatures for volunteers.
4. Plan your cleanup:
Build a Waiver for your event on Otter Waiver. This is an important step for liability and volunteer security.
Determine the size of crew needed to clean each area.
Determine transportation needs to get crews to and from the cleanup.
Determine what additional litter pickups will be required in areas where sanitation departments will not be available.
Determine where crews will need portable sanitary facilities.
Online: Use Facebook or Eventbrite to create the event and manage volunteer sign up, and share event information.
Offline: Put up posters around the neighborhood, on the elevator in your apartment building, on the bulletin board in your building, etc. Get creative!
5. Line up support and supplies and arrange for disposal and recycling:
Ask for donations of trash bags, refreshments, equipment.
Be sure that contributors get credit for their donations in cleanup promotion.
6. Start your cleanup day
Download the Otter App and sync all your signed waivers: IOS Download, Android Download. Learn More
Setting up your table:
Litter Getters (for pickup)
Trash Bags and/or bucketsFood/Water/Gloves
(spread these out depending upon what we bring)
Return Litters Getters (separate box)
Flyers, Digital Liability Waivers, business cards etc
Table and chairs (we bring two tables – 6' and 4')
Event signage (if available)
7. Orientation and Safety Talk
COLLECT Online Liability Waivers – one for each person with Otter Waiver. To reduce paper, if someone needs to sign, simply have them scan the custom QR Code for your event and have them sign and then check them in.
Remember: safety first!
Two people make a team.
Wear Gloves & closed toe shoes.
Bring a hat, sunscreen & water.
Watch your footing.
If something is too heavy, get help.
Children must have adult supervision.
Keep the environment safe
Vegetation is sensitive.
‍Wildlife is best kept wild.
What to remove
Trash and Litter (Tiny to Large, anything created by humans. )
Recyclables
What to leave
NatureHazardous Stuff (mark it & see the Site Captain)
Homeless encampments
Be non-confrontational
Dead animals
Syringes, needles, hazardous materials
8. Post to social and record your data
Help us track the trash and fill out a Report a CleanUp form.
Publicize the success of the event on social media – tag us at @NationalCleanUpDay and use the hashtag #NationalCleanUpDay.
Share your images with local newspapers and magazines.
Write thank you emails to any cooperating government officials, businesses, and organizations.
Share your photos with National Cleanup Day here.