Co-creator, curator, and coordinator of the Human Rights and the Drug War Project, Virginia Resner was also involved with Families Against Mandatory Minimums and Green Aid.
Daughter of famed labor attorney Herbert Resner and raised in the San Francisco Bay Area, Virginia had a very strong sense of social justice imbued into her personality. During the 1960s she was active in the hippie scene and engaged in theatre groups. Virginia passed away on July 18, 2007. Her eulogy below, by Chris Conrad describes their experiences together.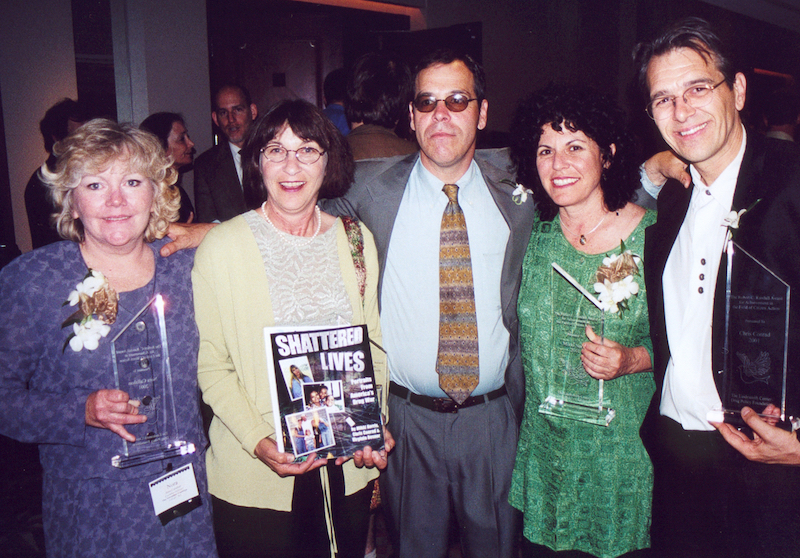 In 2001, Virginia Resner (2nd from left), Mikki Norris and Chris Conrad (on right) were honored for their work on Human Rights and the Drug War, along with Nora Callahan of the November Coalition and prison reform activist Randy Credico.
Eulogy for Virginia Resner. July 30, 2007
"It is what it is," as Virginia Resner would say.
I've looked to the north, to the south, to the east and the west — but I don't see Virginia. I sense her presence all around us, and yet I feel the large void that she left behind.
So we embrace Virginia's life for what it was: A woman who had her own process, moved at her own pace and left her mark on the lives of many people. She was a strong woman, and knowing her made us all stronger. Virginia went to prisons to visit with inmates serving long, drug-related sentences — that's just the kind of person she was.
When my wife, Mikki Norris and I met her in 1995, her boyfriend Steve Faulkner was already in prison. Mikki had received a photo of three Drug War "orphans" – whose parents were in prison – that changed her life. So we saw the 50thAnniversary of the UN as an opportunity to bring global attention to America's dirty war on its own citizens.
Virginia was already walking a similar path to humanize the Drug War's toll on America as California coordinator for FAMM, Families Against Mandatory Minimums. She had begun a project advocating for Women in Prison; women like Amy Pohfal, whom she helped gain Presidential clemency. It seemed like a divine act brought us together that year to manifest this meaningful body of work, beginning with the photo exhibit, Human Rights 95.
One night, after an organizing meeting, there were just the three of us left sitting after tea and Virginia turned to Mikki and said, "I don't want to do this project if it just comes down to just the two of us." So I chimed in. "If Mikki is in this, then so am I, so there will always be at least three of us." So we all laughed and became what we were, a trio that Virginia liked to call "The Three Musketeers" fighting the Drug War industrial complex.
Thus began the whirlwind. We schlepped displays around the country to showcase faces and families and gave presentations as a wake-up call and short course in Drug War 101. The photos and information inspired hundreds, even thousands of people to take action on drug policy and sentencing reform. She was our partner as we morphed from a one-time ad-hoc exhibition into a 12-year organizing experience, Human Rights and the Drug War.
Ginnie had kind of a Prince Valiant haircut with bangs as we Three Musketeers set up displays, authored two books, including Shattered Lives: Portraits From America's Drug War, and shared honors and awards. She was sensible, reliable, politically skillful and a professional organizer. She continued to work with us on other campaigns such as Oakland's Measure Z, and in our home office as our personal and business organizer. We entrusted Virgie with our private information, our house key and our hearts. We celebrated birthdays and Passovers together. We rang in New Years' days dancing to "Stayin' Alive".
She became like family to us and to all our extended family and friends. We literally referred to each other as sister and brother. We met other good friends through her. Plus, she was a very cool person. So sibling, colleague, co-author, confidant, collaborator, office manager and the closest friend of my wife – who's birthday is now the anniversary of Ginnie's liberation day; all wrapped up in one charming and talented bundle of personality. How intimate this partnership had become. 
More intimate than just about anyone else we knew; yet, what's all the more amazing is that Virginia seemed to reach a similar level of intimacy with so many different people, including many people in this room. Even a brief conversation with her could be illuminating. She could be comical and no-nonsense at the same moment, and she was chock-full of advice, like "stop beating up on yourself. It is what it is." Virginia felt very authentic because she was very genuine and she truly touched people's lives. She was trustworthy, and once she committed to be there for you, you could pretty well count on her to deliver.
She became president of Green Aid after her diagnosis. She never gave in to fear, never got ahead of herself, and approached her circumstances with inner strength. She was a survivor with a positive attitude. That made it easier on all of us who were so concerned for her. Her dignity in the face of her illness and personal tribulations, and her steady commitment to being there for Ed Rosenthal by showing up day after day at his trial, her little bald head in the front row of the audience, while she herself was approaching death. She was a trailblazer who seems to have gotten a little ahead of the rest of us on this journey through life, and she once again is blazing a trail for us to follow, probably waiting to welcome us with a macrobiotic dish and a mug of tea. That's just the kind of person Virginia Resner was.
Because she was just that kind of person, she has and will continue to inspire people. Virginia was recently honored at the Women's Visionary Conference, the City of San Francisco is issuing a proclamation and closing today's meeting in her honor, and she will be mentioned in this year's Seattle HempFest program, for starters.
Sometimes it seemed that Virginia couldn't catch a break; I especially remember when over a short period of time she lost her father, Herb Resner, her boyfriend, Steve Faulkner, and her dog, Mollie. But when you get down to it, there are a few objective ways you can measure a person's life: By their character, by their accomplishments and by how well they are loved. By all of these standards, Virginia measures up very highly. And we honor her with high honor.
So, Virginia, maybe it is what it is; but you were more than all that combined
Thanks for letting us stand by your light while it shined
And thanks, dear friend, for your wisdom and support over the years
We salute you with our laughter and our tears
And even though we know you're gone,
We promise that we'll carry on –
And you, dear Ginnie: You're free to go, we'll carry on and sing,
"We love you, Virgie! And thanks for everything."
– Chris Conrad with Mikki Norris, 7/30/07